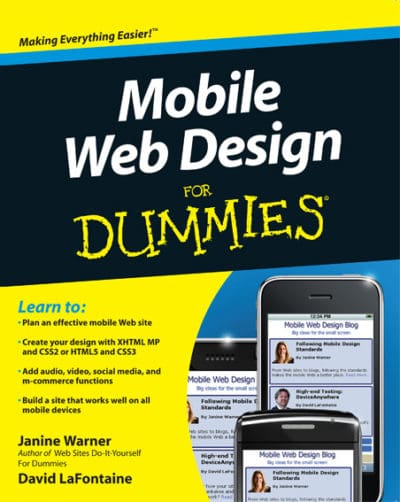 By Janine Warner & David LaFontaine
Wiley Publishing
At first glance, the sheer rate of change in the mobile web can seem intimidating. If the regular internet is a moving target, then the mobile web is a cheetah! With our help, you'll discover what makes a great mobile Web site, the technologies that help you get around the limitations, and how to pack a punch on the small screen.
How to make a big impression on the small screen
Small space, big challenge — examine what makes mobile a different creature and the specific design challenges involved
Tips for adapting an existing site to mobile
Planning an effective mobile strategy
How to build a site that works well on all mobile devices: smartphones, touchscreen phones, and feature phones
Tools of the trade — discover the best markup language for your audience: WML, XHTML MP, or HTML5
Maximize mobile features — take advantage of special features on the iPhone®, Android, and BlackBerry® Storm
Testing, testing — discover how to test your mobile designs with online emulators
Mobile Multimedia — find out how to add audio and video and optimize images for the small screen
Spread the word — explore marketing options to get the word out about your mobile site
M-commerce and how to add a mobile-friendly shopping cart to your site
How to test mobile designs, even when you don't have a mobile phone using mobile emulators
Interviews with top mobile experts
Based on extensive research, writing, editing, and testing, Mobile Web Design For Dummies is already getting great reviews.
Authors Janine Warner and David LaFontaine explain some of the things you'll learn in Mobile Web Design For Dummies
Table of Contents
Part I Designing for Mobile Devices
Chapter 1: Understanding What Makes Mobile Different
Chapter 2 Designing for the Mobile World
Part II Following Mobile Web Standards
Chapter 3 Creating a Simple Mobile Site
Chapter 4 Introducing XHTML and CSS (was Chapter 3)
Chapter 5 Comparing Mobile Markup Languages
Chapter 6 Developing Multiple Mobile Designs
Chapter 7 Testing and Publishing Mobile Sites
Part III Multimedia, Marketing, and E-commerce
Chapter 8 Using Images and Multimedia in Mobile Designs
Chapter 9 Creating Mobile Friendly Blog pages
Chapter 10 Mobile Marketing and Social Media
Chapter 11 Adding E-commerce to Mobile Sites
Part IV Part of Tens
Chapter 12 Ten Mobile Interface Challenges and Opportunities
Chapter 13 Ten Great Mobile Sites
Appendices
Appendix A: Interviews with Mobile Design Experts
Appendix B: Image Optimization